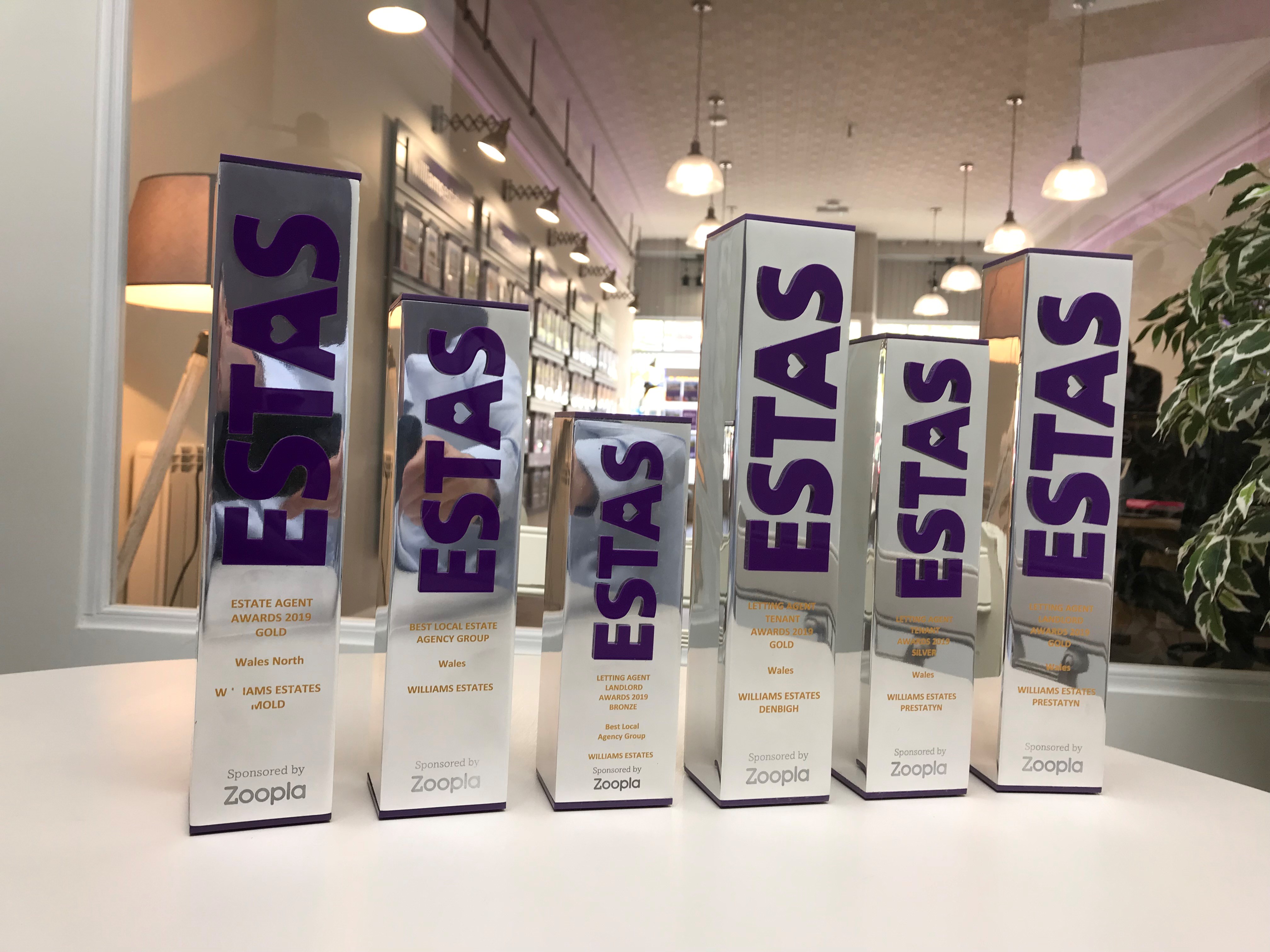 Williams Estates are celebrating an unprecedented success after collecting six awards at this year's ESTAS, the most prestigious Estate & Letting Agents Awards in the UK, sponsored by Zoopla Property Group.
The ESTAS are an independent national award scheme dedicated to recognising exceptional estate and letting agents across the country, where winners are decided purely on the basis of customer feedback.
The North Wales based estate agents are particularly proud of receiving three Gold awards:
Best Letting Agent Tenant Awards in Wales 2019 (Denbigh Office); Best Letting Agent Landlord Awards 2019 (Prestatyn Office) and the converted Best Estate Agent Awards in Wales 2019 for their Mold Office.
The ESTAS, celebrating their 16th year, are specifically designed to help agencies shine in their region. They also help agents to focus on and be recognised for the exceptional customer service they provide their clients.  What distinguishes the ESTAS from other awards is its rating system, based on a scoring system, filled in by customers where they are asked a series of questions about the services they have received from their agent.
The awards were announced by Phil Spencer, the TV property expert at a lavish luncheon & ceremony at the Grosvenor House, on London's prestigious Park Lane, attended by over 1000 of the UK's top property professionals.
Phil Spencer, who has hosted the ESTAS every year since their inception in 2003 said: "The ESTAS encapsulates what your typical agent is trying to do, which is to provide honest, transparent service for their clients. These awards are special because shortlisted and winning firms are selected purely on the service they deliver. Real feedback from real customers experiencing real service, I don't think there can be a greater honour in the industry than to receive an award based on that mantra."
Estate and letting agents were recognised in counties around the UK.  Regional and national Grand Prix Awards were also announced for the Best Single Agent Office in sales and lettings.
Simon Brown Founder of The ESTAS said: "At The ESTAS we're proud to say we believe in old fashioned values like customer service. We know how hard it is to deliver it and that's why we put the spotlight on property firms who are committed to providing excellent service. The ESTAS review and awards platform helps agents generate consumer trust. The ESTAS winners won because they care."
Commenting on the continuing success of Williams Estates, Jason Williams Founder and Business Owner said: "We are absolutely thrilled to again be recognised at this year's ESTAS. It means so much to us as we know it's our customers who have judged our performance.  We take our levels of customer service very seriously because we know clients have a choice. 
"We have always placed a strong emphasis on and are very proud of the personal service that we provide, and this proves we are delivering what we promise. It's been that way at Williams Estates since 1999 and it goes without saying that it will remain that way; it's part of our DNA. This is an outstanding achievement for us, and I would like to offer my sincerest thanks and congratulations to the entire team.
"I would also like to take this opportunity to thank all our customers who took the time to give their positive feedback and experiences of using our services. What a fantastic way to start our 20th birthday celebrations."
Awards won:
Silver – Best Letting Agent Tenant Awards in Wales 2019 – Prestatyn Office
Gold – Best Letting Agent Tenant Awards in Wales 2019 – Denbigh Office
Bronze – Best Letting Agent Landlord Awards in UK 2019 – Williams Estates
Gold – Best Estate Agent Awards in Wales 2019 – Mold Office
Gold – Best Letting Agent Landlord Awards 2019 – Prestatyn Office
Best Local Estate Agency Group Wales 2019 – Williams Estates
Also received:
Best Agent in Denbighshire 2019 – Williams Estates Prestatyn
Best Agent in Flintshire 2019 – Williams Estates Mold